This applies to the following models:
XMP-6200/6250/6400/7300
XMP-2200/2300/2400
MBR-1100
XDS-2170/2370
XDS-1060/1062/1068/1078
First make sure your player or signboard is not connected to any network.
From Basic Setting screen, go to Wireless LAN to see if Wi-Fi is enabled.
If Wi-Fi is enabled, please select a wireless network. If not, click "ON" on the upper right corner.

1. At password window, click down arrow to hide keyboard.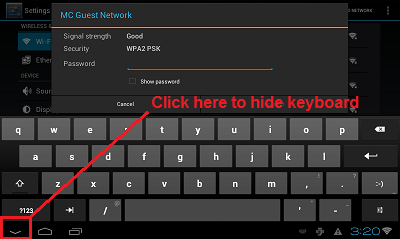 2. Check the box that says "Show advanced options"

3. Under IP settings, change DHCP to Static.